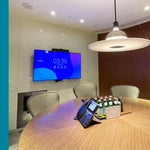 Welcome to Taipei Far Eastern Plaza and experience the Bestboard®!
Far Eastern Plaza is one of Taiwan's legacy business centers and offers panoramic views of the Taipei skyline from its location in the heart of Tun Hwa South Central Business District.
The 16th-floor business center is equipped with the latest state-of-the-art Bestboard solutions, such as the Video Soundbar and Wireless Presenter to offer a cable-free and hassle-free meeting experience.
We are happy to inform our customers that we have a new Bestboard® meeting room set up ready for all Taipei customers at Level 16 in Far Eastern Plaza, it is also open to the public as a meeting room leasing facility, please feel free to contact us and we will arrange a Bestboard® demo tour for you!
-
Press Contact
Tel: +886  (0)2 2382 0283
Fax: +86 0755 8661 2352
Email: contact@bestboard.com
About Bestboard®
Bestboard® is offering innovative technology to refine and modernize your conventional workplace, including meeting rooms, classrooms, laboratories and other workplaces. Bestboard® has empowered your digital workforce to connect, visualize and collaborate to create time-efficient collaboration among your remote teams.
Best Teamwork with Bestboard®.